Splashdrone 3 Fisherman Version|Splashdrone SAR Version 3 Australia
The SAR Splashdrone 3 Version has great features with a SAR device equipped with a camera capable of dropping up to 1 kg of Pyload from the sky. This completely waterproof drone can be used for variety of purposes. This Splashdrone comes with a 5.8 Ghz FPV Video Transmitter that gives a range of upto 1 km that can be used to transmit LIVE footage to your screen.
---
WANT TO KNOW WHICH SPLASHDRONE VERSION MIGHT SUIT YOU? LEARN THE DIFFERENCE BETWEEN SPLASHDRONE AUTO & SAR (PAGE OPENS IN NEW WINDOW)
---
Splashdrone 3 is an advanced fishing drone that equips you with long-range bait casting. The fisherman splahsdrone version 3 has been designed specifically for fishing and is a great tool for fishermen that comes equipped with features and components designed for fishing such as the SAR device that allows you to release bait while you receive live video feed.
This version of splashdrone shares the same features of the Auto version. The main difference is that this version comes with a SAR device rather than the gimbal. SAR device is a combo device that includes a camera and payload release device making it perfectly suited for fishing. The Fisherman version Splashdrone shares the same waterproof frame, and all the latest features available in the Auto version providing you ease of use.
What's Included in Splahsdrone 3 Fisherman Version
1 x Splashdrone Version 3 Aircraft
1 x Brand New Design - all in one Remote Controller with Display
1 x SAR Device - Payload Release plus Camera Combo Device
1 x Controller Battery
4 x Props
1 x Balance Charger
1 x Charger Cable
1 x USB Cable
1 x Splashdrone 3 Carry Case
1 x Controller Strap
Spare Part (see image- screw bolt)
If you are after Mode 1 or Mode 2 remote controller, the configuration process is pretty simple and you can change the throttle mode from left to right or right to left yourself by following the
splashdrone 3 remote Configuration
process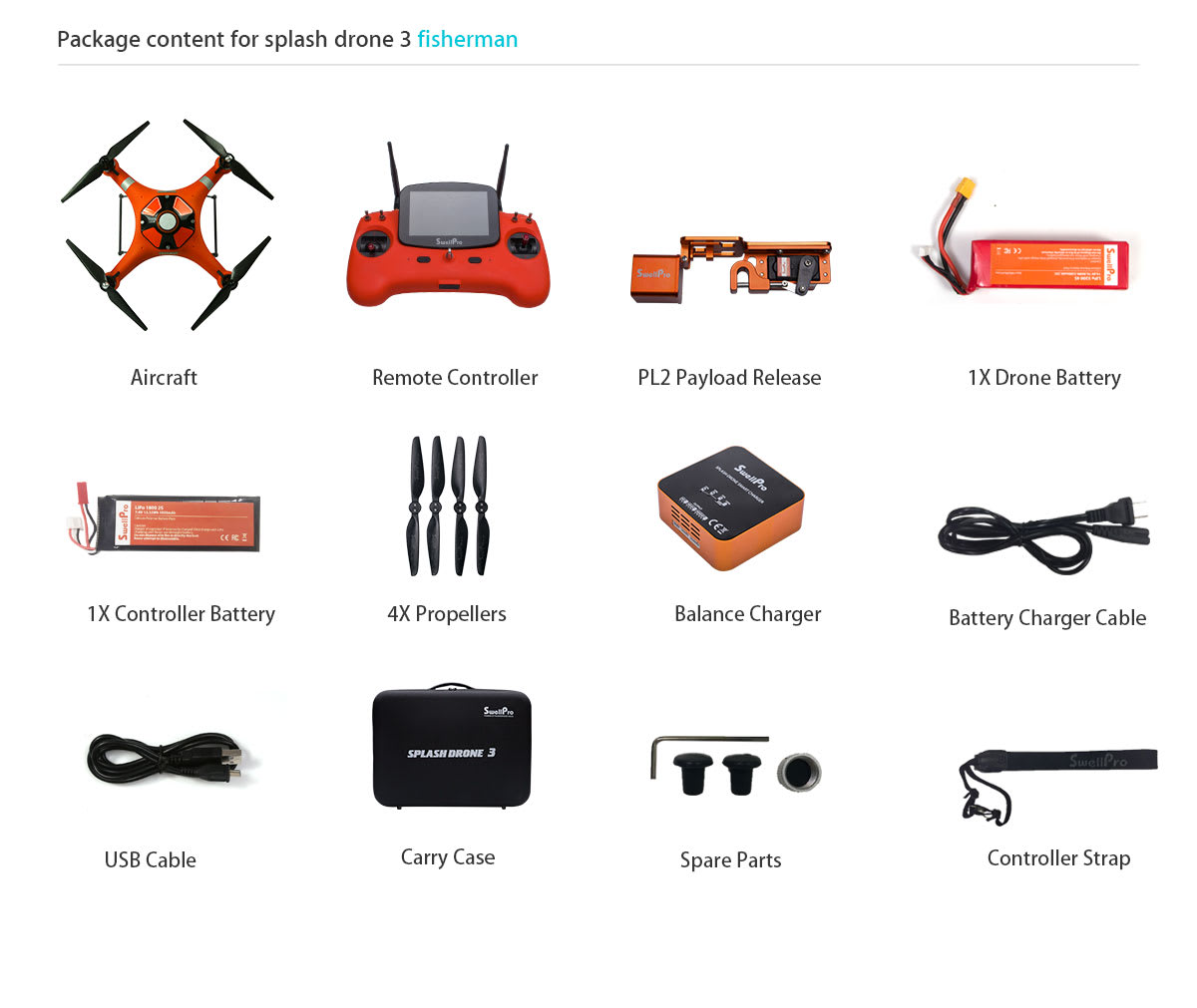 Splashdrone Auto & Fisherman Version 3 Comparison (What is included in each version)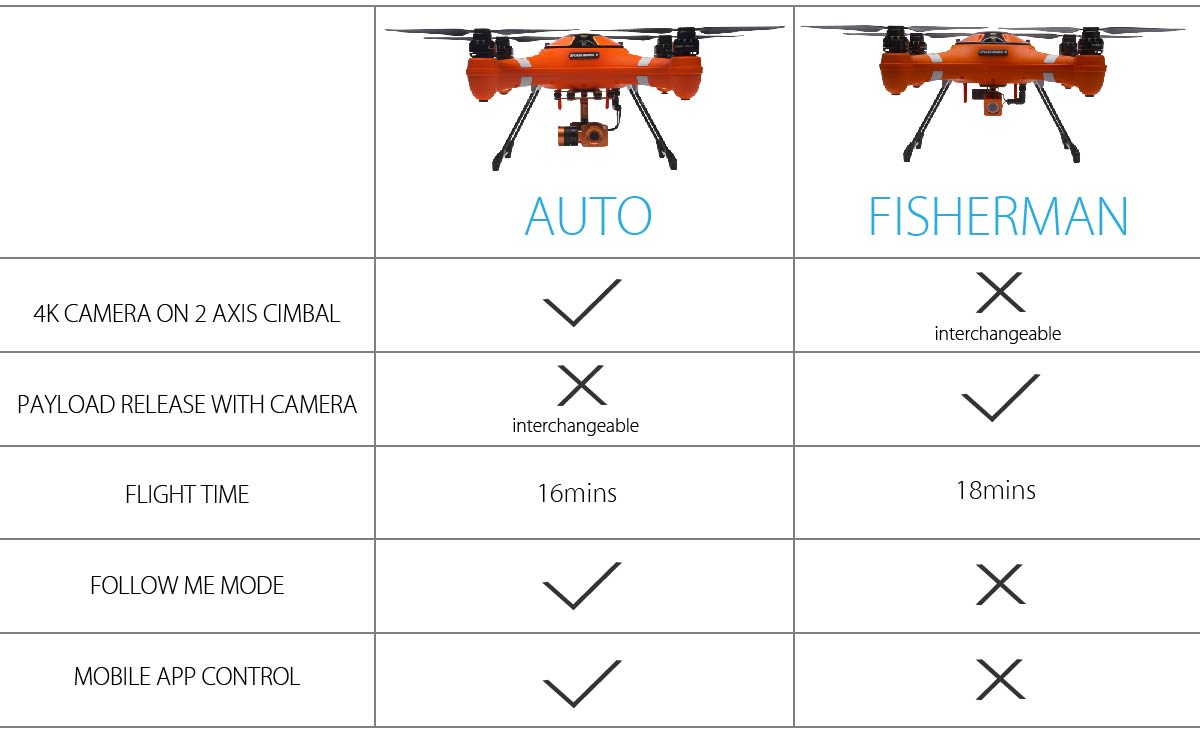 More Information
Short Description

The SAR Splashdrone 3 Version has great features with a SAR device equipped with a camera capable of dropping up to 1 kg of Pyload from the sky. This completely waterproof drone can be used for variety of purposes. This Splashdrone comes with a 5.8 Ghz FPV Video Transmitter that gives a range of upto 1 km that can be used to transmit LIVE footage to your screen.

---

WANT TO KNOW WHICH SPLASHDRONE VERSION MIGHT SUIT YOU? LEARN THE DIFFERENCE BETWEEN SPLASHDRONE AUTO & SAR (PAGE OPENS IN NEW WINDOW)

---